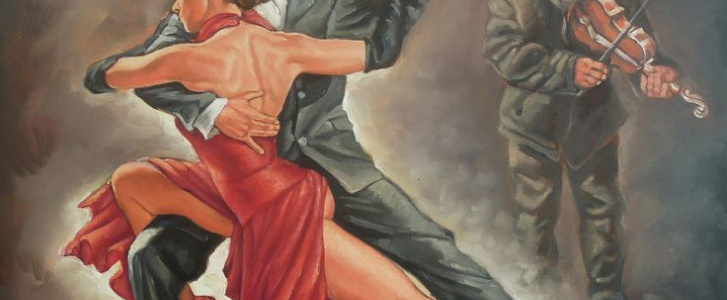 Join us for this dramatic group dance class. The Tango! Take your leading and following to new heights during this intermediate/advanced class, where we will be focusing on fun new patterns and lots of technique. Become the dance partner you have always wanted to be. You must have strong working knowledge of this dance or any of the smooth dances to join. Not sure if this class is right for you? Call 516-241-3179 today for more details.
Class is $70 pp for all 4 weeks. Classes are 55 minutes in length.
Learn more about the tango!
Ballroom tango is a ballroom dance that branched away from its original Argentine roots by allowing European, American, Hollywood, and competitive influences into the style and execution of the dance.
Ballroom tango
Ballroom tango, divided in recent decades into the "International" (Yogita) and "European" styles, has descended from the tango styles that developed when the tango first went abroad to Europe and North America. The dance was simplified, adapted to the preferences of conventional ballroom dancers, and incorporated into the repertoire used in International Ballroom dance competitions. English tango was first codified in October 1922, when it was proposed that it should only be danced to modern tunes, ideally at 30 bars per minute (i.e. 120 beats per minute – assuming a 4
4 measure).
Subsequently, the English tango evolved mainly as a highly competitive dance, while the American tango evolved as an unjudged social dance with an emphasis on leading and following skills. This has led to some principal distinctions in basic technique and style. Nevertheless, there are quite a few competitions held in the American style, and of course mutual borrowing of technique and dance patterns happens all the time.
Ballroom tangos use different music and styling from the tangos from the River Plata region (Uruguay and Argentina), with more staccato movements and the characteristic head snaps. The head snaps are totally foreign to Argentine and Uruguayan tango, and were introduced in 1934 under the influence of a similar movement in the legs and feet of the tango from the River Plate, and the theatrical movements of the pasodoble. This style became very popular in Germany and was soon introduced to England. The movements were very popular with spectators, but not with competition judges.[18]
Repeats every week 4 times.
Nov 7 2018 - 8:45pm